| | |
| --- | --- |
| Posted on November 10, 2014 at 8:00 AM | |
Galatians 6:2 New King James Version (NKJV)
Bear one another's burdens, and so fulfill the law of Christ. 
November 1, 2014  
We gathered together in O'Fallon, Missouri and walked to a young girls home who stood up for her bus driver last year on Halloween (October 31. 2013)  Our home town hero stood up in front of the other students on the bus and corrected the troublesome students who was disrupting the whole bus. Our hero acknowledge the bus driver, she thanked the bus driver for what the bus driver did and was doing to handle the situation telling the bus driver that it was not her fault for the troubled students behavior. 
We are so thankful for our O'Fallon, Missouri Hero!!!!  We celebrated  the year anniversary with a parade in honor of our town hero....  
We thank you Brittany for bearing one and the others burdens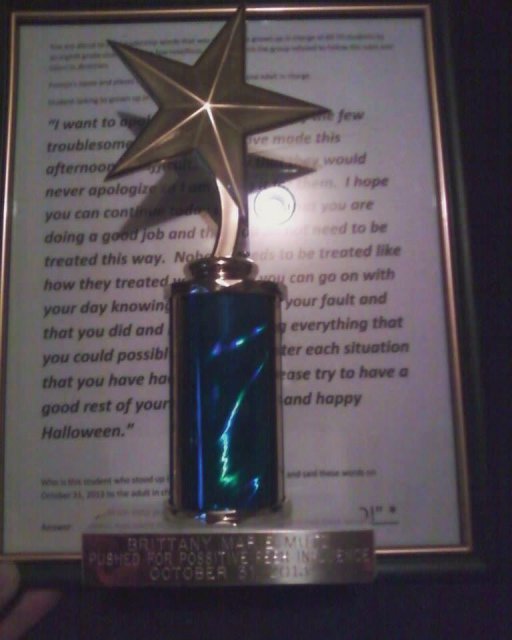 Thank YOU Brittany for

Pushing For Positive Peer Influence

in our home town in honor of  the Fort Zumwalt School District!!!!!

Categories: SHOW ME your hands.....

0

/