| | |
| --- | --- |
| Posted on December 23, 2012 at 11:36 AM | |
Dear Precious Ones,
We come to you to ask that you please help our brother who is disabled and has no dental insurance.  Our brother can not afford to buy dental insurance or can not afford to get needed dental care to stay healthy and to have a handsome smile. People, you must know this fact that our Government does not provide dental insurance for our disabled human race like they provide disability insurance for the disabled through Medicare or Medicaid.  Our disabled have to pay out of their own pocket to get dental work done.  As you know all disabled are on a fixed income and can not even afford the house payment or electric bill, or medicine that they so desperately need to get through in this life.
These are the words from Gerald:  "I want to smile and have my parents be pleased with what they see.  I do not want them to be ashamed and disappointed  of me being their son.  I don't want to be forced to have to hide from the children, I am afraid that my smile will scare the children and that the children will make fun of me."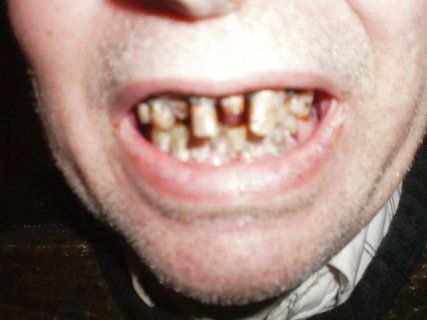 Dear "YOU" Who are what the Communities are made of = "YOU!"

 

We come to "YOU" today,  we ask that "YOU" please donate just $1.00 to "Volunteers In Dentistry"  If 2000 people will donate just one dollar than Gerald will get his teeth fixed and have his hearts desirer as to have a handsome smile.  The Dentist group at Thomas John Kennedy Of Missouri, DDS, PC  318 Mid Rivers Mall Drive  St. Peters, MO 63376  Phone:  (636) 970-1460 has given Gerald a free estimate and it was over $2000.00  If we can come up with $2000.00 than they and Show Me your hands will pay the rest.  Please people, what is one dollar?  To Gerald, It is the beginning of a new life with a handsome smile! 

                          

We at

www.showmeyourhands.com

 thank

"YOU"

for your help in creating

"Volunteers In Dentistry" - "Volunteers In Dentistry"

is created because of

"YOU!"

  Thank

"YOU"

for all of your support!  ~~~~ Amen ~~~~   Because of

"YOU"

  Gerald's dream will come true! 

"YOU"

are our pot of gold at the end of our rainbow!  We thank

"YOU"

for being

"YOU" 

who make what our communities are in this world today. 

  

            "THANK YOU!"

 

 

                                                                       

Categories: Dear American Dentists:, Volunteers In Dentistry

0

/