We want "Utopia in St. Louis" Utopia is a perfect place where everyone is equal.  We hope to start the Utopia process one neighborhood at a time.  We have friends who live in St. Louis.  We have seen the signs asking people to love one another.  Our hearts are touched. We are doing our best to bring what they are asking into St. Louis, one neighborhood at a time.  (If you would be so kind as to show up and help us walk the community walk. it would be greatly appreciated.)   We will walk with the Missouri flags held high sharing our love to one and the other as we hand out teddy bears with a prayer.  11:00-12:30 community walk, giving bears with a  thankful prayer 1:00-4-00 Games and fellowship at park.  Come; tell us your hopes, dreams, ideas and talents so we might better bring "Utopia in St. Louis."  3:00-4:00 we will bow our heads as we pray together or individually as each persons heart desires.  This hour has been dedicated to all the believers of Jesus Christ to come together as one team. For Jesus prayer to come true told to us in John 17 .  
        So that the world will believe that Father God has sent Jesus.
As you might know the environment in St. Louis (Ferguson area) is not very good.  We a nearby community, want to show love, with hopes for the love to flow.  We are inviting all who want to show love to join us in the Castle Point community, on our Bear one another's burdens event day:
Event Name:  Bear one another's burdens
Date:  April 14, 2017 Time:  11:00am - 4:00pm
Theme of the Event:  "Love one another"
Alternate Date:  NONE  
Event Location:  Castlepoint Park
Street Address:  2465 Bareness Dr. 
                           St. Louis, MO.  63136
Contact Name:  Patti Cooper
Cell Phone:  636 293 3478
Please view our ad in the St. Louis Post Dispatch.  
YOUR HEARTS ARE GOING TO BE SO TOUCHED!!!
                                "UTOPIA IN ST. LOUIS"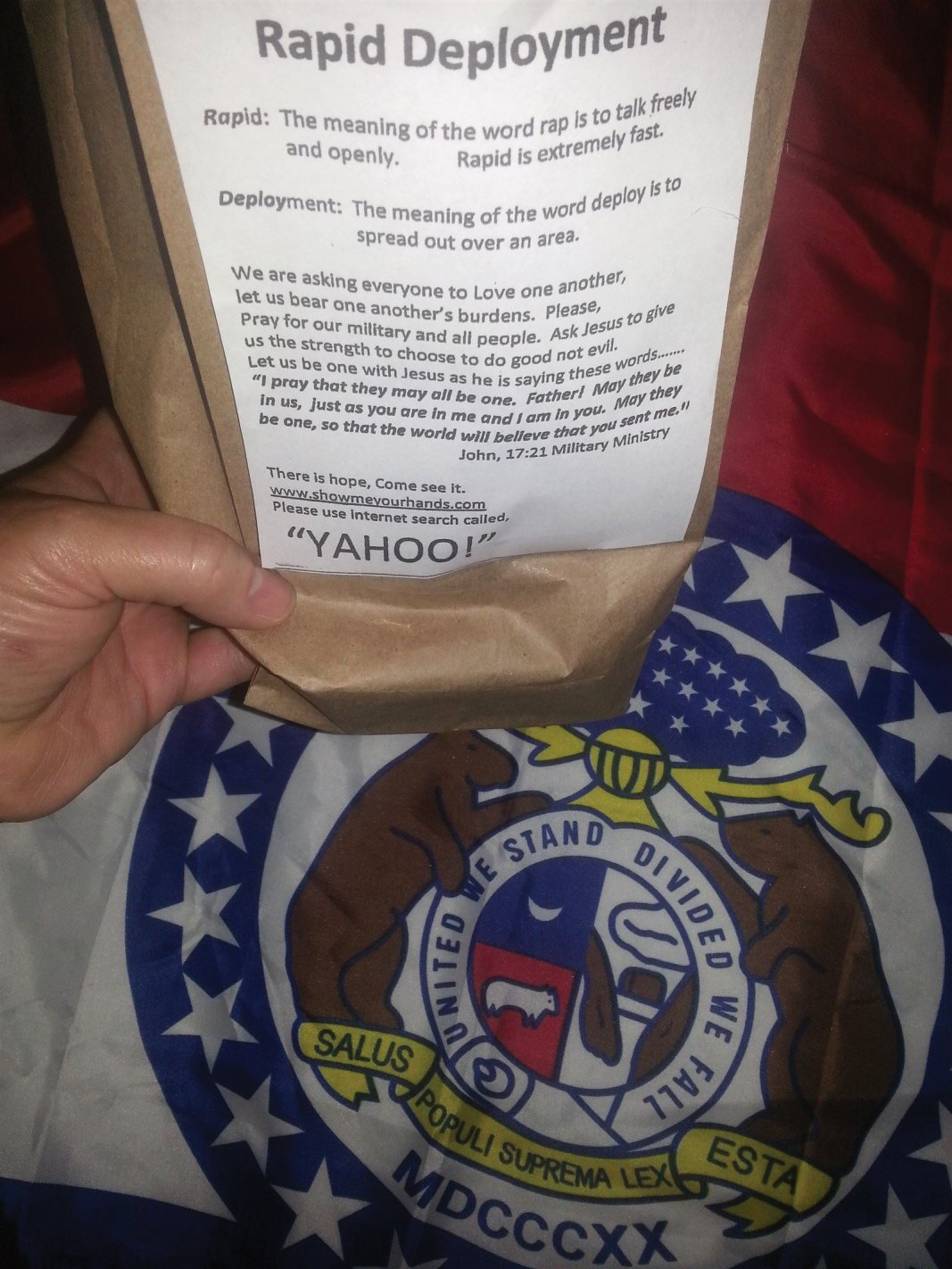 Question:  Did you ever watch a touched by an angel show?  If you have then you will know that they have a song, the same song every time the show comes on....  https://youtu.be/tKO7iX86XWA
                        We at www.showmeyourhands.com
                        (Where People Are Helping People) 
                                        BELIEVE
                                      John 20:27  
John 20:27 King James Version (KJV)
27 Then saith he to Thomas, Reach hither thy finger, and behold my hands; and reach hither thy hand, and thrust it into my side: and be not faithless, but believing.
We would love to have our very own theme song too.  Soon, Very Soon when you see our  television show.  Our theme song just might be the one we are posting on this blog.  
Put your faith into one pair of hands......  
Carroll Roberson - One pair of hands (Jesus Christ died for our sins)
https://youtu.be/l2auQPq8A9w
Most of us know this scripture very well!  We all know that we must give unto Caesar the things which are Caesar's......  We all know that each year we have to fill out our taxes and we get to see just how much money we give to the government each year.  We are made to do this. 
Now the second part of this verse in the bible Matthew 22:21 tells us to give unto God the things that are God's. 
We are not made to do this and most of us seem to have forgotten to give to our God.  God is love not money.  We need to give God love.  He is love.  he gave his only son for us so that our sins can be forgiven.  All we have to do is ask for forgiveness and to not sin no more.  God gives us his only son.  What are we giving to him? 
Please, acknowledge our one and only true God and let us all come together to love one another and help one another.  Let us make this world the place that it was in the beginning before sin took over.  Let us sin no more so our God will walk with us on this earth again.  Let us prepare for our God for him to be able to come home and be with us on earth forever and ever, amen.
Our Father in heaven: May your holy name be honored:  may your Kingdom come:  may your will be done on earth as it is in heaven.  Give us today the food we need.  Forgive us the wrongs we have done.  as we forgive the wrongs that others have done to us.  do not bring us to hard testing, but keep us safe from the Evil One. 
"If you forgive others the wrongs they have done to you, your Father in heaven will also forgive you.  But if you do not forgive others, then your Father will not forgive the wrongs you have done." 
 Matthew 6:9-15 Military Ministry
All Glory and Honor is Yours Almighty Father Now and Forever.  Amen.
/