Galatians 6:2 New King James Version (NKJV)
Bear one another's burdens, and so fulfill the law of Christ. 
November 1, 2014  
We gathered together in O'Fallon, Missouri and walked to a young girls home who stood up for her bus driver last year on Halloween (October 31. 2013)  Our home town hero stood up in front of the other students on the bus and corrected the troublesome students who was disrupting the whole bus. Our hero acknowledge the bus driver, she thanked the bus driver for what the bus driver did and was doing to handle the situation telling the bus driver that it was not her fault for the troubled students behavior. 
We are so thankful for our O'Fallon, Missouri Hero!!!!  We celebrated  the year anniversary with a parade in honor of our town hero....  
We thank you Brittany for bearing one and the others burdens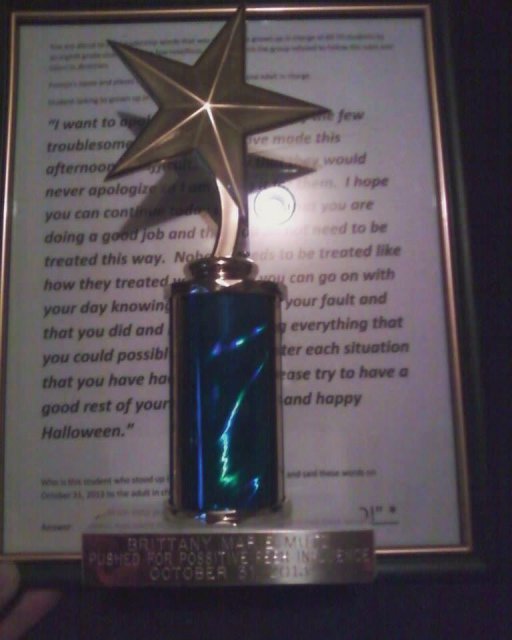 Thank YOU Brittany for
Pushing For Positive Peer Influence
in our home town in honor of  the Fort Zumwalt School District!!!!!
The pictures that you see is what it is.....  We didn't have enough money to get the bottom teeth done.  We could only get the top.  We are thankful for what is!!  This man can smile a half-way handsome smile!!!!  Because of you and you and you....   "DREAMS ARE COMING TRUE....  WE THANK YOU!!!!"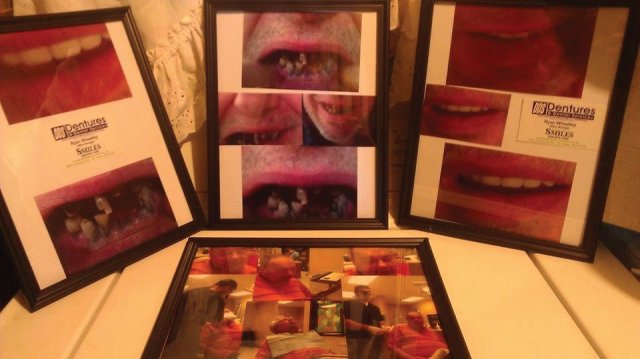 This is from our Face Book Page:
Words from one of SMYH Volunteers: I have an issue.... I have a letter in hand from my land lord telling me that I am stealing from him, because I am not current on my rent. He told me that if I do not pay the 1766.00 that I owe him by Feb 18 2014 ... He is going to have the sheriff to remove me by force if necessary. Same day I got the eviction letter  I answered one of the phone calls that was on the (SMYH) answering machine....  A person... Asking for help... She lives in a motel room and her man works part time and the churches won't help her because they don't make over 2000 a month and that they live in a motel room...... She needs 272.00 by 11:45 Jan 18. 2014 I started to give her the church numbers that was given to me... By my family doctor because she my family doctor knows me and knows my situation and knows that I very well could have a nerviest break down... She-my family doctor called the social worker at the hospital and did get the name of St. Joachim and Ann charity services.... I did call them and they told me what this person told me.... who lives in a motel room with twins... 6 months old....
 "Call the other churches and than we can see if we can help you"...
Well... "WE HERE AT SHOW ME YOUR HANDS" say .... "JESUS PLEASE HELP US ALL... JESUS WE ALL NEED YOU.... JESUS PLEASE HELP US TO LOVE ONE AND THE OTHER LIKE YOU HAVE LOVED US .... "WE THANK YOU," YOU DIDN'T TELL US  THAT WE DIDN'T MAKE ENOUGH MONEY IN ORDER FOR YOU TO HELP US...  (To die on the cross so that our sins will be forgiven)  JESUS IT IS YOUR HANDS THAT WE ARE SEEKING.... WE HAVE TRIED JESUS TO GET YOUR PEOPLE TO HELP PEOPLE... JESUS PLEASE STAND UP FOR ALL OF US WHO CAN'T SEEM TO HELP OURSELVES..... It is as if we are in the middle of the circle of people who think that they do no wrong... They are laughing at us poor people when we are hurting, suffering and being left for dead.... JESUS please help us like you did MARY Madeline. Stand up for us all JESUS, PLEASE SHOW US YOUR HANDS AGAIN LIKE YOU DID MARY MADELINE.... PLEASE
www.showmeyourhands.com
 Thanks you Lord Jesus for YOU being YOU and we believe in you without a doubt that you hear us and will help us help people." 
DEAR JESUS,

WE ALL KNOW THAT ANYTHING IS POSSIBLE WITH YOU ......  
(ALL AUTHORITY HAS BEEN GIVEN TO YOU IN HEAVEN AND ON THIS EARTH)
IF WE HAVE FAITH AS SMALL AS A MUSTARD SEED...  WE CAN MOVE A MOUNTAIN.....  WE KNOW WITHOUT A DOUBT THAT WE CAN BRING BACK WHAT IS IN HEAVEN ON THIS EARTH!!!!

WE" don't need money...... 
WE NEED:  "OUR SAVIOUR"   "OUR EVERYTHING"  "WE NEED YOU THE ONE AND ONLY KING OF KINGS AND LORD OF LORDS"  "JESUS IT IS YOU THAT WE NEED!" 
PLEASE COME SOON LORD JESUS!!!!!!!!!!!!!!

Dear Veterans:
We the Volunteers at (SMYH) stand up for all of you who are on earth and in heaven.  We come to you to say "THANK YOU" for Believing in Our Lord Jesus Christ and for your declarations of proof of what you say and do.  (DD214 or DD215) Thank You, who were willing to give up your lives and die for us all.  Because of you, we can win the victory over the evil one as they did in heaven. 
They won the victory over him (the evil) by the Blood of the Lamb and by the truth which they proclaimed; and they were willing to give up their lives and die.  revelation 12:11 Military Ministry
THREE STEPS THAT CONQUERED THE EVIL ONE:
1.)  BLOOD OF THE LAMB;  Divine Mercy-Eternal Father, I offer you the Body and Blood, Soul and Divinity of your dearly beloved Son, Our Lord Jesus Christ, in atonement for our sins and those of the whole world.
2.)  TESTIMONY:  1A.  A declaration or affirmation made under oath.  2B.  All such declarations in a given legal case = PROOF OF WHAT YOU SAY AND DO.
3.)  WILLING TO GIVE UP THEIR LIVES AND DIE:  My commandment is this: Love one another, just as I love you.  The greatest love you can have for your friends is to give your life for them.  AND YOU ARE MY FRIENDS IF YOU DO WHAT I COMMAND YOU.  John 15:12-14 Military Ministry  
"VETERANS -AND ALL PEOPLE WHO REFRAIN FROM SIN, WHO ASK JESUS  FOR FORGIVENESS AND SINS NO MORE."
THANK YOU FOR BEING OUR FRIENDS,  WE LOVE YOU, FOR YOU, BEING YOU!!"
Dear Thomas, called Didymus, one of the Twelve.  I hope you are smiling today!  Many years ago I the Author of this book stood up for you on my "Step Up to Leadership", graduation day!  I told everyone who was listening to my speech that I will put your Gospel in my book.  I am keeping my word to all and to you.
Show Me your hands John 20:27 come to you to say, "Thank you" Thank you, to all the people who prayed the words that Jesus has taught us, on 12/12/12 at 12:12 Am and 12:12 PM so that, we could be one as Jesus and Almighty Father is one.  With faith, we all be one with them and in them, and most of all for them.  In hopes that "HE" will be pleased.  We ask this again, that we all join hands and pray the words that Jesus taught us on 12/21/12 at 12:12 AM and 12:12 PM.  Turn the date 21 around and you will get 12.  The First and Last, Alpha and Omega, Beginning and End of 12/12/12. 
Please, let us all come together and be one for the one and only true Saviour of this world. Please pray this prayer with us... Put both of your hands together and feel (with eyes closed) feel that you are holding another hand even if you are in the room all by yourself... (Close your eyes) and feel the
holding of  hands  that is holding one another. What we should do now is think that the other hand you are holding with your eyes closed, is Jesus himself. Jesus will bring us all together as one, like Almighty Father and Himself are One... Just Believe! We will soon be one with them. Amen. 
With hands together, let us say the words that Jesus has taught us:
Our Father who art in heaven, Hollow be thy name. They Kingdom comes together , thy will be done, on earth as it is in heaven.  Give us this day our daily bread, and forgive us our trespasses, as we forgive those who trespass against us, and lead us not into temptation, but deliver us from evil.  For thy is the power and the Kingdom and Glory is yours Almighty Father, now and forever.  Amen.  e  
Come, with child like faith and view Thomas C. Twin II interpretation of the writing on the wall that is told to us in Danial 5:
          "MANY MANY(will) TICKLE A PERSON"
We here at
www.showmeyourhands.com
believe
that
the
one person is Our King of Kings and Lord of Lords, the one persons name is "JESUS
."
 MENE, MENE TEKEL UPHARSIN 
 By, Thomas C. Twin II ( Many, many tickle a person)
Author: Thomas C. Twin II

This is a hand made poster... I Patti Cooper got the hands out of the community news paper. The thumb was messed up so I fixed it the best that I could. I got a few picture's of the fetus and put them together in the shape of a heart... The reson for this poster is for all you inquiring minds! (I am prepared for when the ship comes in.)
Facebook Post

My prayer to Jesus asking him to please take the wheel!
Letter to the Captain!

This letter is addressed to Capt. AmyJo Ferguson The Salvation Army of O'Fallon Corps Officer
Call to Worship

On Sunday, August 12, 2012 @ ~THE SALVATION ARMY~ LOOK WHAT IS INSIDE OF THE BULLETIN!
Happy Labor Day, Year 2012

Praying with action: "Praying to the owner of the harvest that he will send out workers/"LABORERS" to gather in his harvest"
Dear"SHOW ME" Your Hands - John 20:27 Participance:
I Patti Cooper, Author pin name Thomas C. Twin II.....  "Thomas Called the Twin was not with them when Jesus came."  John 20:24  (I Patti Cooper, feel that I was born to turn things around!)  I will not be doubting, I choose to believe!  I come to you to tell you that I believe that Jesus lives in YOU.  I was not able to see Jesus actions in you people.  I so tried to get you to bring out Jesus into this world.  Believe me it is and was not easy!  It is not you that I need to please, it is our Father Almighty!  For him I choose to believe that HE lives in YOU!  He told us that a great multitude ....  many, many, many people wearing white robes washed by the blood of the lamb, standing in front of the throne...   I believe Our God!  I believe his words!  We all have a right to choose, I choose to believe in HIM!  With this being said:  I have made ways for YOU people to bring out the love of Jesus in your heart!  "SHOWING OF ONE'S HAND SYMBOLIZES THE LOVE OF JESUS IN YOUR HEART!"  I have not yet seen any show of hands except my own.  I the Co Founder of
www.showmeyourhands.com
  (Jesus is the founder-John 20:27) We = Jesus and myself, WE choose to believe that Jesus is with me always, and always Jesus is with me.  WE choose to believe HIS words.  WE ask for the show of your hands one more time!  WE own 3.2 acres of land with a well and a septic system on it.  WE need at least $10.000 so that WE can get out of the mold infested environment that WE  have been living in.  WE feel that with the help of the masters hands....  WE can auction off the land and the money that WE receive after the $10.000, Will be used to help people, helping people through..
www.showmeyourhands.com
Let us be ONE as Father and Jesus are ONE, Let us be ONE in Them, with Them and for Them.  AMEN.  "LET US BE ONE!"
If you wish to learn more of how the title to this "ONE" blog came into being, please feel free to view the attachments:
Auction:
WE hear ten thousand, ten thousand, Do WE hear twenty thousand?  Do WE hear?  It is going once, it is going twice, it is going and almost gone.   "It's In HIS Hand"
Most of us know this scripture very well!  We all know that we must give unto Caesar the things which are Caesar's......  We all know that each year we have to fill out our taxes and we get to see just how much money we give to the government each year.  We are made to do this. 
Now the second part of this verse in the bible Matthew 22:21 tells us to give unto God the things that are God's. 
We are not made to do this and most of us seem to have forgotten to give to our God.  God is love not money.  We need to give God love.  He is love.  he gave his only son for us so that our sins can be forgiven.  All we have to do is ask for forgiveness and to not sin no more.  God gives us his only son.  What are we giving to him? 
Please, acknowledge our one and only true God and let us all come together to love one another and help one another.  Let us make this world the place that it was in the beginning before sin took over.  Let us sin no more so our God will walk with us on this earth again.  Let us prepare for our God for him to be able to come home and be with us on earth forever and ever, amen.
Our Father in heaven: May your holy name be honored:  may your Kingdom come:  may your will be done on earth as it is in heaven.  Give us today the food we need.  Forgive us the wrongs we have done.  as we forgive the wrongs that others have done to us.  do not bring us to hard testing, but keep us safe from the Evil One. 
"If you forgive others the wrongs they have done to you, your Father in heaven will also forgive you.  But if you do not forgive others, then your Father will not forgive the wrongs you have done." 
 Matthew 6:9-15 Military Ministry
All Glory and Honor is Yours Almighty Father Now and Forever.  Amen.
Dear People,
I am doing my best to get help out to the children in India.  My heart goes out to these children.  I know everyone has there own thing that they want to do for Christmas.  Believe me I know!  I asked schools and churches they all turn me down.  The ones who say that they will help do not.  I am so hurt in my heat.  I don't know how to get help out to the children in India. I bought two quilts in hope that I can raffle it off and give the money to India.  Please view my letter and pictures I give to people for them to see with hope that they will help!
Cover of pamphlet that I am giving to the people

This is the cover of the pamphlet that I am handing out to the schools and churches
Letter to the People

This is a letter telling about the children who are in need of help.
Pictures of children who need our help

This is one page filled with many pictures. The pictures were given to me by Siogh Pastor and his wife who take care of about 100 foster children in India. I put as many pictures as I could on one page. I even cut out a picture of mother Teresa and her thumb in hope that she is giving me a thumbs up as in job well done.... Sometimes we have to be our own cheer leaders in this world to keep us going!
Raffle Tickets to win the Quilt

One Ticket = One Dollar Six Tickets = Five Dollars On an index card put your name, address & phone number and send with your dollar or dollars to: SHOW ME your hands PO Box 1352 O'Fallon, MO. 63366 Drawing will be the day before Christmas. We will contact the winner by phone on this day.. 12-24-11 Thank you for your support!
/