The pictures that you see is what it is.....  We didn't have enough money to get the bottom teeth done.  We could only get the top.  We are thankful for what is!!  This man can smile a half-way handsome smile!!!!  Because of you and you and you....   "DREAMS ARE COMING TRUE....  WE THANK YOU!!!!"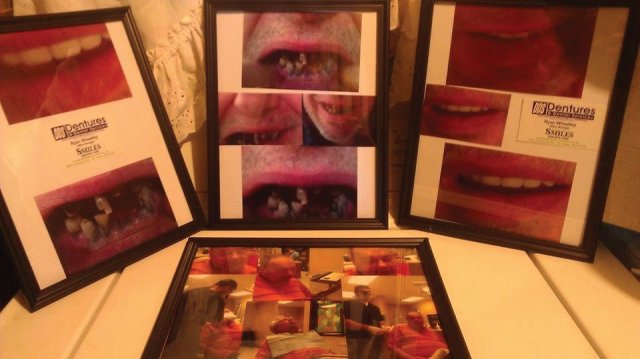 Dear Precious Ones,
We come to you to ask that you please help our brother who is disabled and has no dental insurance.  Our brother can not afford to buy dental insurance or can not afford to get needed dental care to stay healthy and to have a handsome smile. People, you must know this fact that our Government does not provide dental insurance for our disabled human race like they provide disability insurance for the disabled through Medicare or Medicaid.  Our disabled have to pay out of their own pocket to get dental work done.  As you know all disabled are on a fixed income and can not even afford the house payment or electric bill, or medicine that they so desperately need to get through in this life.
These are the words from Gerald:  "I want to smile and have my parents be pleased with what they see.  I do not want them to be ashamed and disappointed  of me being their son.  I don't want to be forced to have to hide from the children, I am afraid that my smile will scare the children and that the children will make fun of me."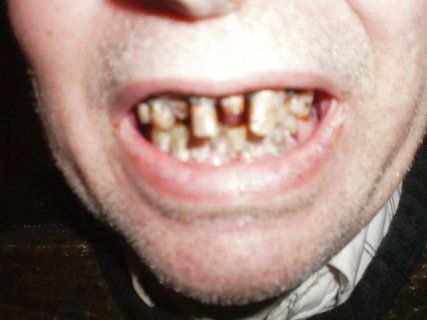 Dear "YOU" Who are what the Communities are made of = "YOU!"
We come to "YOU" today,  we ask that "YOU" please donate just $1.00 to "Volunteers In Dentistry"  If 2000 people will donate just one dollar than Gerald will get his teeth fixed and have his hearts desirer as to have a handsome smile.  The Dentist group at Thomas John Kennedy Of Missouri, DDS, PC  318 Mid Rivers Mall Drive  St. Peters, MO 63376  Phone:  (636) 970-1460 has given Gerald a free estimate and it was over $2000.00  If we can come up with $2000.00 than they and Show Me your hands will pay the rest.  Please people, what is one dollar?  To Gerald, It is the beginning of a new life with a handsome smile! 
We at
www.showmeyourhands.com
 thank
"YOU"
for your help in creating
"Volunteers In Dentistry" - "Volunteers In Dentistry"
is created because of
"YOU!"
  Thank
"YOU"
for all of your support!  ~~~~ Amen ~~~~   Because of
"YOU"
  Gerald's dream will come true! 
"YOU"
are our pot of gold at the end of our rainbow!  We thank
"YOU"
for being
"YOU" 
who make what our communities are in this world today. 
            "THANK YOU!"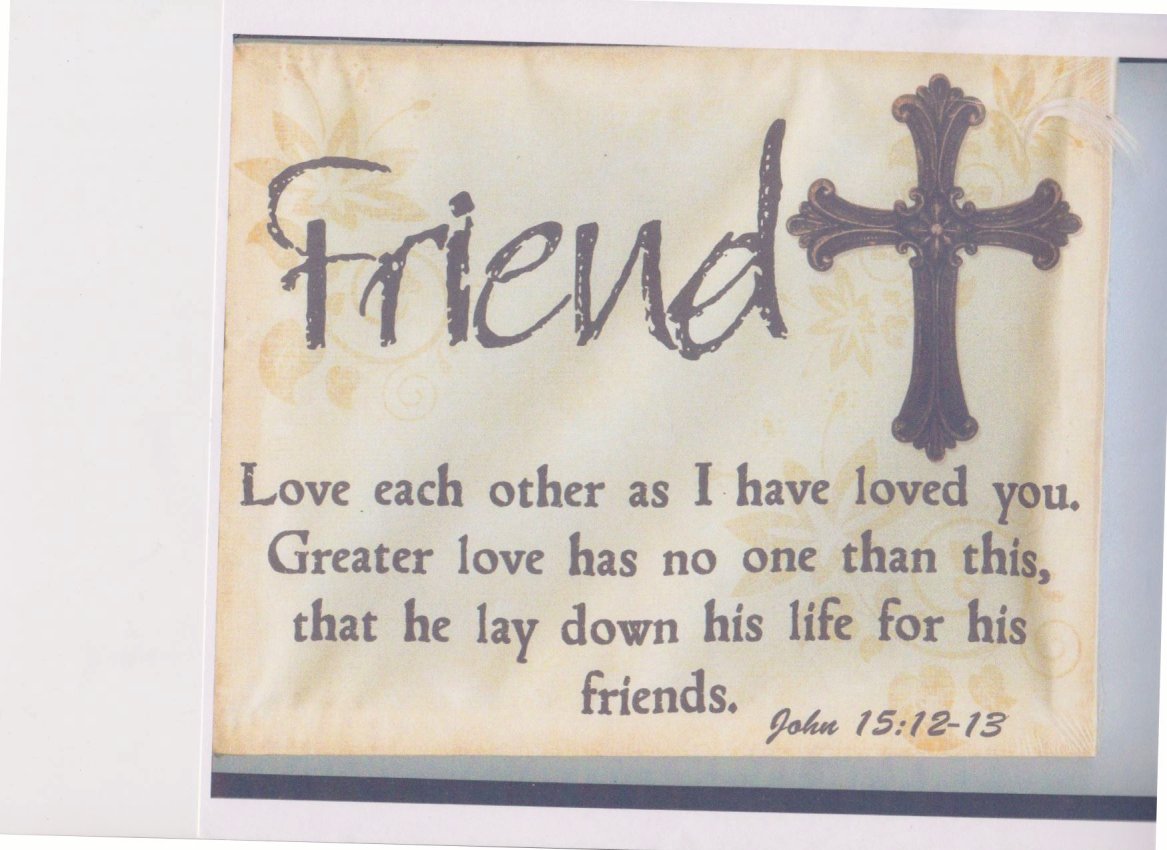 Dear American Dentists:
Please help our neighbors who can not afford to help themselves with getting their teeth fixed as to pay for dental help with money.  "SHOW ME your hands"  is asking that somehow, someway we can all volunteer to help each other.  If we can do some kind of volunteer work for you to help these individuals so they can get the help that they so despretly need.  Please let us know what we can do to help! 
Please view the picture of one of my neighbors teeth.  It is a man who is totally disabled.  PLEASE, FIND IT IN YOUR HEARTS TO HELP US HELP THEM.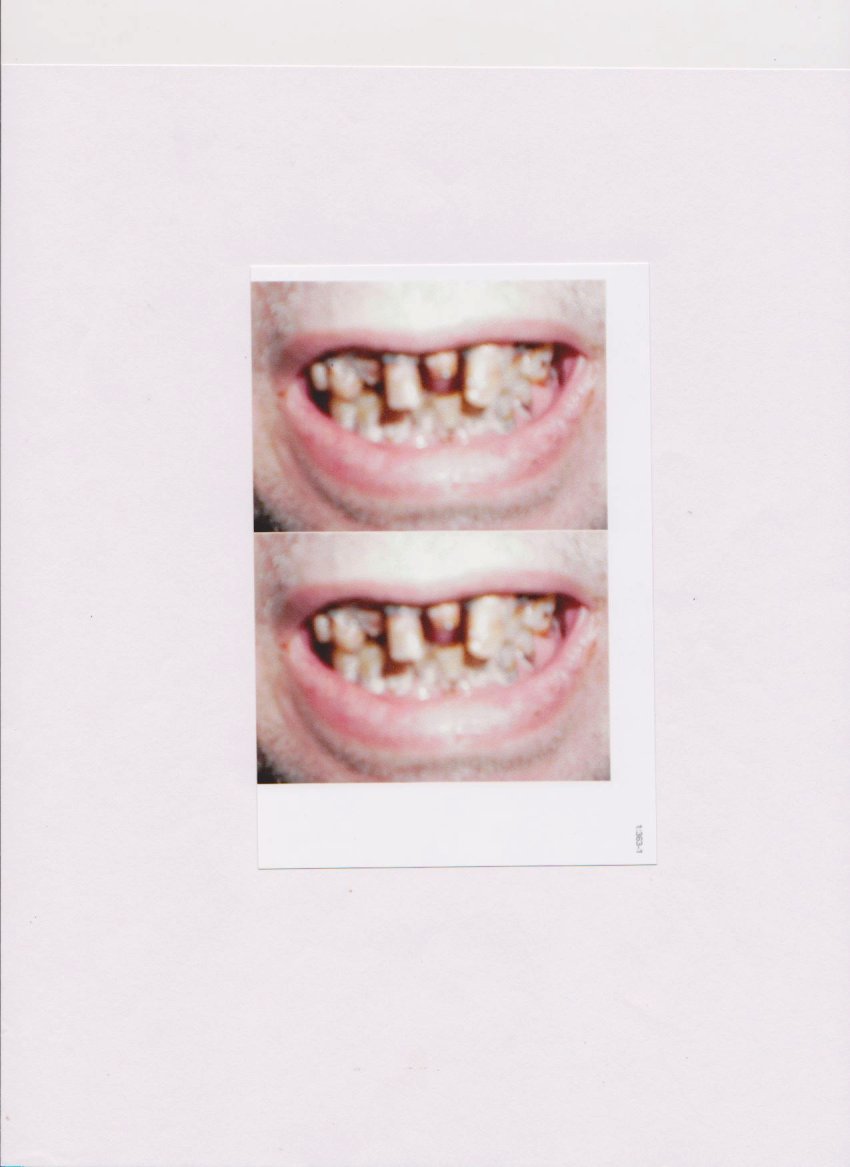 Dear American Dentists: 
Sat, Feb 12, 2011 @ 12:56 PM
Our country is in desperate need of your extraordinary services.  We the people feel that we have many health problems because of our neglected cavity infested, gum diseased & abscessed or chipped teeth.  Many of our disabled individuals do not get dental insurance through our government and the disabled is limited on the money they receive.  The majority of our disabled bring in under $800.00 a month.  The average monthly house rent is about $1200.00.  This does not include electric, for heating and cooling or the water, sewer and trash bills.  Not to mention:   Food or clothing, personal items like, toilet paper, bathing soap, laundry soap, toothpaste, tooth brushes, dental floss and mouth wash.  How can these poverty stricken individuals get any help to take care of their teeth?  How can we stop this trend of letting our fellow man suffer due to infection of the mouth? (This infectivity flows throughout the body that keeps reoccurring, because the individual does not have the money to get a tooth surgically removed.)  Are we going to just keep on doing what we are and ignore our fellow Americans needs?  Are we going to let them suffer while we are spending money on ourselves so we can have a good time out on the town?  That could be accommodated by a huge bright white and gray moon.  If we notice and observe this image, a warm unexpected feeling of comfort and peace might envelope our presence.  Yet, most of us are too busy thinking about how much money we can spend to make us feel good through alcohol or any other type of pleasure that might tickle our fancy.  For example:  Going out to eat, chomping vigorously on a vast tough steak, with corn on the cob, saturated with butter, waiting to be eaten as a side dish. 
Bottom line:   We are out having fun while…..   Our fellow Americans stay at home with constant pain and suffering, accompanied by repeated sounds of moaning and groaning, because they do not have the money to take care of the root canal or a sharp rotten tooth that needs to be abstracted.  Enclosed:   Picture of one of our disabled Missouri resident.
What Happened to Our State Motto? "The Welfare of the People Will Be the Supreme Law."
Dear Dentists, we know that you might feel that it is not your problem.  Oh, please have compassion and lend these individuals a helping hand.  Please, put a little love in your hearts.  Help us make this world a better place. 
. 
WE NEED YOU!  It is you the Dentists that we Americans need!  We the People
Believe, many health problems will be eliminated if you Dentists will come together and volunteer "one day a month," for your area neighbors who have no dental insurance.
We Thank You For Your Support! If you can help, please Contact:
"Show Me your hands"  Thomas C. Twin II Ministries:
 (Where People are Helping People)            There is Hope, Come See it.
Address:  P.O.  Box 1352
Phone Number:  (636) 293-3478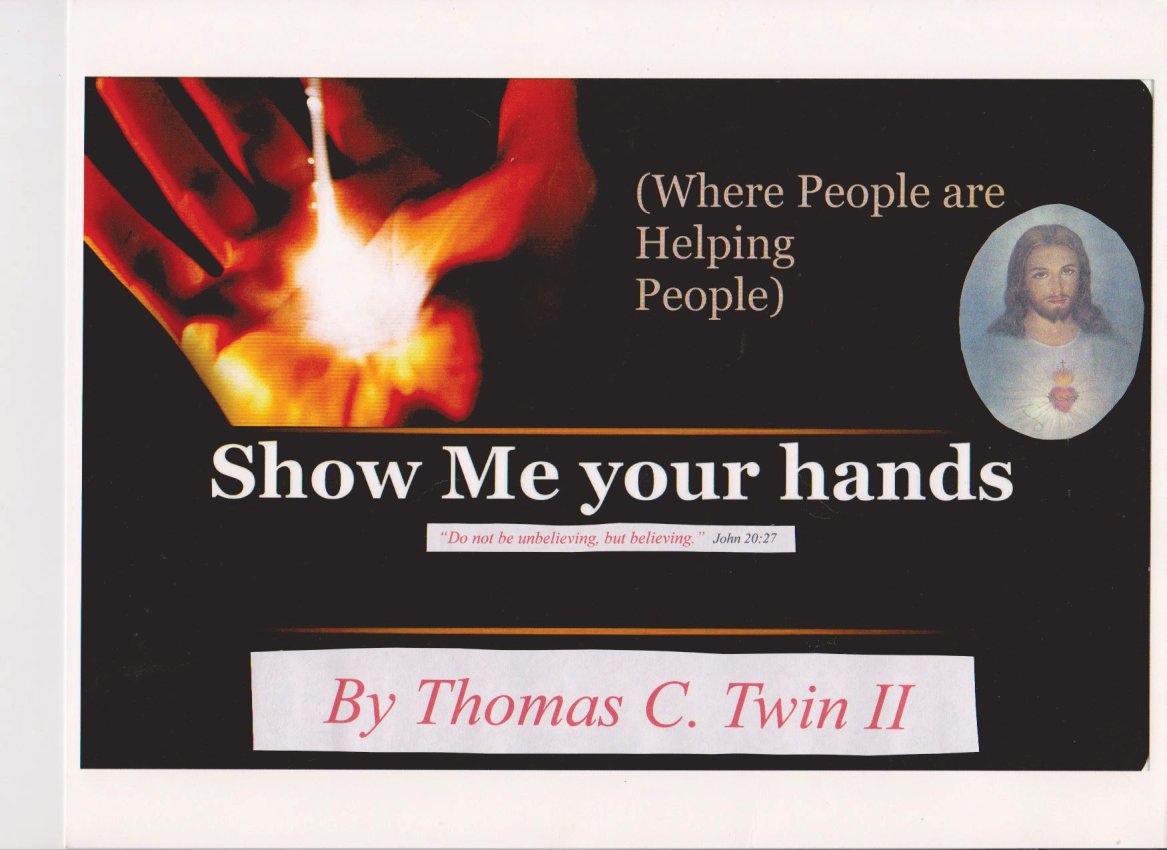 /