The pictures that you see is what it is.....  We didn't have enough money to get the bottom teeth done.  We could only get the top.  We are thankful for what is!!  This man can smile a half-way handsome smile!!!!  Because of you and you and you....   "DREAMS ARE COMING TRUE....  WE THANK YOU!!!!"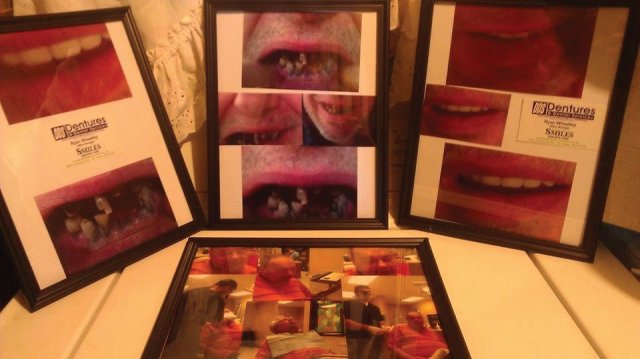 Dear Precious Ones,
We come to you to ask that you please help our brother who is disabled and has no dental insurance.  Our brother can not afford to buy dental insurance or can not afford to get needed dental care to stay healthy and to have a handsome smile. People, you must know this fact that our Government does not provide dental insurance for our disabled human race like they provide disability insurance for the disabled through Medicare or Medicaid.  Our disabled have to pay out of their own pocket to get dental work done.  As you know all disabled are on a fixed income and can not even afford the house payment or electric bill, or medicine that they so desperately need to get through in this life.
These are the words from Gerald:  "I want to smile and have my parents be pleased with what they see.  I do not want them to be ashamed and disappointed  of me being their son.  I don't want to be forced to have to hide from the children, I am afraid that my smile will scare the children and that the children will make fun of me."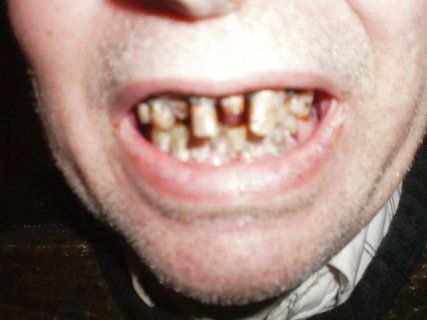 Dear "YOU" Who are what the Communities are made of = "YOU!"

 

We come to "YOU" today,  we ask that "YOU" please donate just $1.00 to "Volunteers In Dentistry"  If 2000 people will donate just one dollar than Gerald will get his teeth fixed and have his hearts desirer as to have a handsome smile.  The Dentist group at Thomas John Kennedy Of Missouri, DDS, PC  318 Mid Rivers Mall Drive  St. Peters, MO 63376  Phone:  (636) 970-1460 has given Gerald a free estimate and it was over $2000.00  If we can come up with $2000.00 than they and Show Me your hands will pay the rest.  Please people, what is one dollar?  To Gerald, It is the beginning of a new life with a handsome smile! 

                          

We at

www.showmeyourhands.com

 thank

"YOU"

for your help in creating

"Volunteers In Dentistry" - "Volunteers In Dentistry"

is created because of

"YOU!"

  Thank

"YOU"

for all of your support!  ~~~~ Amen ~~~~   Because of

"YOU"

  Gerald's dream will come true! 

"YOU"

are our pot of gold at the end of our rainbow!  We thank

"YOU"

for being

"YOU" 

who make what our communities are in this world today. 

  

            "THANK YOU!"

 

 

                                                                       

Greetings to YOU All and to All many greetings:  I Thomas come to you today and give you the words of our KING of KINGS and LORD of LORDS in hopes that everyone who has an ear to hear, will hear what the SPIRIT IS SAYING.  

 

"I, Jesus, have sent my angel to  announce these things to you in the churches.  I am descended from the family of David; I am the bright morning star."  The Spirit and the Bride say, "Come!"  Come, whoever is thirsty:  accept the water of life as a gift, whoever wants it. 

                                                   Revelation 22:16-17  Military Ministry

 

Please people come and help "SHOW ME your hands" achieve their mission.  Please let us all join hands and comfort thy neighbor and reduce loneliness, sickness, poverty and homelessness.  Please, let us all be one and create "Volunteers In Dentistry" and help that you can give is greatly appreciated!  We are thankful for the little love that you give.  We have enough faith to know, greater love will come. 

 

A few children in O'Fallon, Missouri have been searching for four leaf clovers so that we can put a real four leaf clover in each book that we titled: "A Hearts Desirer"  All proceeds from this little book will go to "Volunteers In Dentistry" to help raise money for the people who need dental work; who do not have dental insurance and cannot afford dental insurance.  We are asking a donation of at least $20.00 for one of our books that will have a real four leaf clover in it while supplies last.  If you wish to receive one we ask that you fill out the contact information or mail request to; Thomas C. Twin II  P.o. Box 1352  O'Fallon, MO.  63366   We will do our best to contact you as soon as we can in order  for you to receive your book.

 

I Thomas have asked about one hundred and fifty children in O'Fallon, Missouri this question:  What is the meaning of the three leaf clover?  Only one small child gave me the answer.  Her Parents named this child "Trinity."  Trinity told me that St. Patrick taught Christianity in Ireland and told people about the  three leaf clover being the trinity:  Father, Son and the Ghost.  They are all by its self, but yet they are all connected as one.

 

Now I Thomas C. Twin II ask all children and adults what the meaning of the four leaf clover is.  My precious neighbors, I believe without a doubt that it is "YOU!"  YOU are the completion of the four leaf clover!  You and YOU and YOU and YOU.  All of us together as one team helping each other and comforting each other through notions of affection (love, comfort, keep,) faithfulness unconditionally (for richer or for poorer, in sickness and in health,) and  permanence (as long as we all shall live, until death do we part)  SHOWING OF ONE'S HAND SYMBOLIZES THE TOUCH OF THE SPIRIT OF LOVE IN THE HEART.

SHOW ME your hands is delighted to tell everyone that we had a volunteer who donated time out of ones day to mail all the Dentists in O' Fallon, MO.  The fliers titled:  "Dear American Dentists."  Inviting the Dentists to view this website.  We have high hopes that the Dentists will want to help after reading the letter.  So far we received only one return to sender because of a address change. 

SHOW ME your hands: (Where People are Helping People) "BELIEVE"   John 20:27

Jesus lives!  He lives through the work of our hands. There Is Hope, Come See It ....

We are delighted to post our first of many thanks to:

 

                                   "YOU"!

 

                            The People who are Helping People.

 

A few months ago this year 2011.  I Thomas received a phone call from

a neighbor in the early morning hours from a individual who was in

extreme pain do to a abscessed tooth.  I called two dentists that was

refered to me by a caring minister who preaches in St. Charles Co. 

Out of the two, I received one call back and this is all it took.  I gave

the dentist the individuals name and number and wallah, presto.....

The pain was no more do to the fact that the dentist helped the now

overjoyed human being who is smiling beautifully because of a dentist

with a caring heart.  Many thanks to you our dear friend!  Thank you

for helping the communities comfort they Neighbor and reduce

Loneliness, Sickness, Poverty and Homelessness. Showing of your hand

 symbolized the touch of the SPIRIT OF LOVE in your heart!

 

 

 

 

 

 

0

/